Tony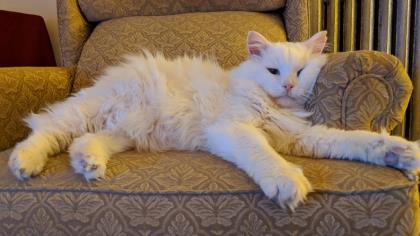 Tony
Hi my name is Tony, I dont have any stripes but I have a GREEAAAAAATTTT personality! I was getting really stressed out in the shelter while waiting for my forever home so I took a mini vacation in foster while I wait. I go between the two but I would love to find my forever home. The foster home that I am vacationing in loves me and even said the following about me:
"Tony is very sweet. He certainly used to be a house cat. He started exploring the house the moment I opened the crate. There is not one spot he hasn't been to in the house since day one. He's very curious about everything. He follows us if we change rooms and hangs out with us, loves being pet (most of the time) and loves to sleep right by our feet or on the couch. He is also very playful when he feels like it and even asks to play at least once a day. He is full of energy that I can't believe he's 9 years old! We give him his space tho. I can imagine him being a sassy one if he's not happy, but also think that's how most cats are. Tony would be a great companion for a single person I think; a good friend"
If you have a nice quiet home for me to explore in, I am your guy! If you are interested in learning more about me email the foster team at foster@clevelandapl.org
Adopt and enroll this pet in a Trial of Insurance (accident coverage). Call 1-866-600-2584 to learn more today!