Ian 9D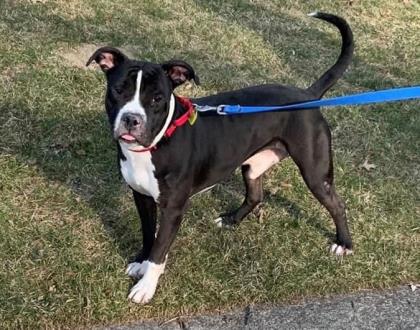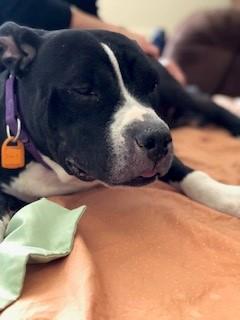 Ian 9D
Ian is a sweet boy who has started to accept human touch a little more each week. He seems to enjoy the massages he has received on a weekly basis and has become a little more relaxed each time. He appears to be housebroken in his foster home and lets his family he needs to go out by licking his hand. He is still a little suspicious of soft treats but does enjoy some wet food if meds need to be given (crushed up in it). He also has become fond of carob chip dog cookies. He won't take it from your hand but if you put it down he will play with it, tossing it around and then eating it.
He has met his foster family's cat and was curious but no other negative reactions - a slow introduction would be recommended for any new feline friends. He also has a goofy side when given the chance to hang out with another dog friend. He cracks his foster family up with the low to the ground butt scoots and jackrabbit hops when playing. He will just need someone with a lot of patience because it may takes months for him to come around to someone new and he may never be that dog who wants to cuddle but he is a really great dog who deserves a better life than he had!
To inquire about an adoption appointment (Monday-Friday), or curbside adoption (Sunday-Saturday), please visit https://clevelandapl.org/dog-adoption-survey/ to complete an adoption survey. Know that we will respond to inquiries based on the timestamp of the email receipt. An adoptions associate will contact you via phone to review your survey and begin the next steps in the process if you are eligible to adopt. You must be ready to adopt right away, as we will not be offering holds.
We are offering limited open browsing hours Saturday from 11am-3pm, Sunday 12pm-3pm, and Monday 11am-3pm. Browsing will be first come first served as we are limited the number of visitors in the building.
The adoption fee for dogs is $125 and puppies is $200 + $21 county license.
Adopt and enroll this pet in a Trial of Insurance (accident coverage). Call 1-866-600-2584 to learn more today!